IFAT 2018, World's leading trade fair for water, sewage, waste and raw materials management
Scroll down for: product information, downloads & contact information.

IFAT 2018 takes place in Munich, Germany from 14 May to 18 May, 2018. IFAT is the world's leading trade show on environmental technology, including innovations and services in water, sewage, waste and raw materials management.

The IFAT story is one of staggering success. It began in Munich and now encompasses the entire world. Within 50 years, visitor numbers have increased from a starting figure of 10.200 to over 135.000 today. More than 3.000 exhibitors from across the globe cover the full range of professions in the water, sewage, waste and raw materials industry under the heading: recources.innovations.solutions.


Date: 14 May - 18 May 2018
Location: Munich, Germany
Organiser: Messe München GmbH

The BENELUX largest separator manufacturer, Aquafix Milieu, is represented during the exhibition period with its own exhibition stand in Hall 3, booth number 116.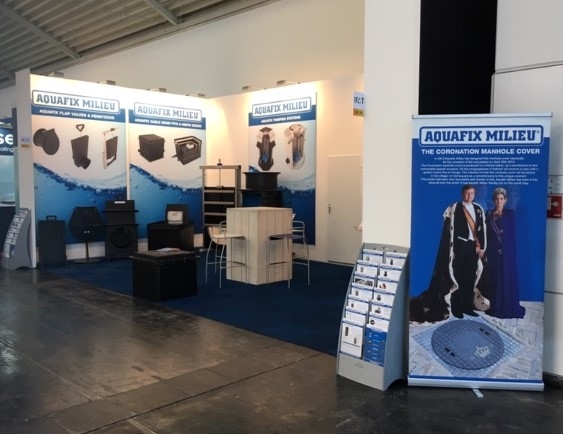 During the exhibition period, we promote our program. Grease separators, parallel plate oilseparators and coalescence-separators, but also our water management program, among other things, valves, hand lift sluice gates, penstocks and some interesting innovative products like a roadgully with an integrated oil-separator and an underground control cabinet.

At the accredited institution TÜV LGA Rheinland in Würzburg, Germany, the Aquafix separartors were tested according to the most strict requirements on a positive efficiency as mentioned in the EN1825 an the EN858. At TÜV LGA Rheinland at Nürnberg, Germany, the separators are tested and approved on durability and chemical resistance of the used materials.

Whether it's about draining of wastewater from a professional kitchen, industrial estate, parking lots of airports, Aquafix - with her unique program of self-designing and self-producing - has the solution for you.

Aquafix can be found at IFAT from Monday, May 14th till Friday, May 18th , 2018.

Our booth can be found in hall B3, booth number 116.

We are most gladly to welcome you at any time during the IFAT!
Download the documentation:
Contact information:
Headquarters The Netherlands
Aquafix Milieu B.V.
P.O. Box 288
NL3640 AG MIJDRECHT THE NETHERLANDS
Genieweg 20-30
NL3641 RH MIJDRECHT THE NETHERLANDS
Tel. +31 297 262929
Fax +31 297 261272

Sales office Belgium:
Aquafix Belgium BVBA
Dwarsstraat 6 A
2430 LAAKDAL BELGIUM
Tel. +32 13 668303
Fax +32 13 661768
IFAT

exhibition team:
| | | |
| --- | --- | --- |
| | | |
| | | |

More international information:
- English
- Deutsch
- Français
- Español
- Polski
- български - Bŭlgariya